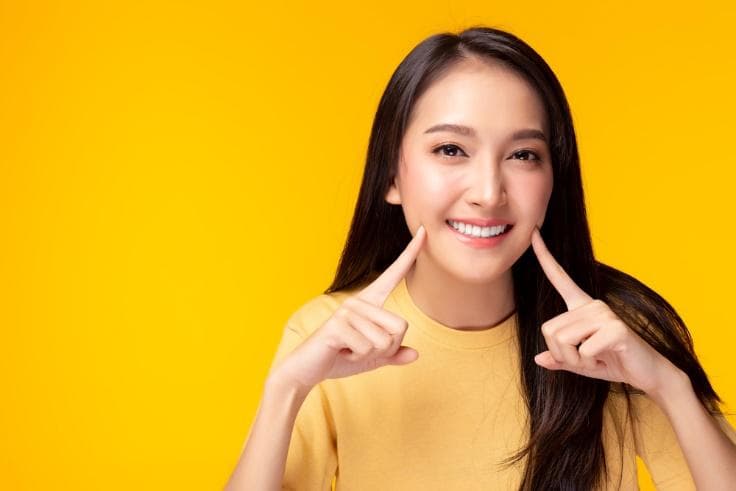 Repair Your Teeth for a Healthy, Beautiful Smile
Do you have a missing, broken, or infected tooth? World-class restorative dentist Dr. Julie Jang wants to help you restore your smile to its former glory. She performs a variety of small and comprehensive dental procedures to fulfill this goal.
Restorative dentistry is the field of dentistry designed to fix your existing dental problems so that your mouth is fully functional again. Unfortunately, when a dental problem arises, it is likely to worsen the longer you leave it untreated. To avoid the need for more complex and expensive procedures later, it is wise to take care of smaller problems early.
Benefits of Restorative Dentistry
Replacing Missing Teeth
When adult teeth fall out or need to be extracted, they leave an unpleasant gap in your smile and weaken your bite. Dr. Julie can fill a vacant space by several means to recomplete your mouth.
Treatments:
Repairing a Cracked or Chipped Tooth
A tooth that cracks due to injury or biting on something hard can weaken, cause pain, and even require removal if not attended to. Bolstering the tooth so that it can survive in the long term is critical.
Treatments:
Eliminating Tooth Decay
Even good brushers and flossers can develop tooth decay sometimes. Unfortunately, lingering bacteria slowly eats at the enamel on your tooth, creating a hole, or cavity. The longer this goes unaddressed, the easier it is for your tooth to become infected.
Treatments:
Addressing Tooth Infection
Untreated cracks and cavities leave your teeth more susceptible to infection. When the pulp at the center of your tooth becomes infected, it causes pain and can even require extraction if untreated.
Treatments:
Straightening Your Bite
Teeth can shift out of place and lead to malocclusion (a misaligned bite). Orthodontic treatments can correct an overbite or underbite, while replacing a missing tooth can prevent other teeth from shifting out of place.
Treatments:
Why Patients Choose Harmony Family Dentistry for Restorative Dentistry Procedures
Expertise: Dr. Julie is a skilled dentist who studied the art of repairing and replacing teeth in a way that maximizes the functionality and aesthetics of prosthetics.
Personalized Care: Every patient is unique, so Dr. Julie customizes a treatment plan for you that addresses your specific needs and goals. In extreme cases, Dr. Julie can devise a full mouth restoration plan.
Advanced Technology: Harmony Family Dentistry has state-of-the-art technology that makes restorative procedures easier, more comfortable, and quicker than you will find at other dental offices.
Competitive Prices: Because restorative dentistry is so essential to the health of your mouth, Dr. Julie strives to keep care available at prices that fit your budget. Her team can help to maximize your insurance benefits so you do not have to pay more than you need to.
Make an Appointment with Dr. Julie
Your smile deserves better than to have missing or broken teeth. Restorative dentistry can help you to bite and speak normally again. If you have a dental problem that needs addressing, or simply need a checkup to confirm whether your teeth are in good shape, schedule an appointment at Dr. Julie's Vancouver, WA office by calling or texting 360-882-7866.